If you're looking for new leafy green recipes, this cavolo nero salad with tomatoes and fried garlic oil is super delicious and simple to make. Cavolo nero is also known as Tuscan cabbage or black kale, and it's fantastic for making a nutrient-dense side dish or salad.
---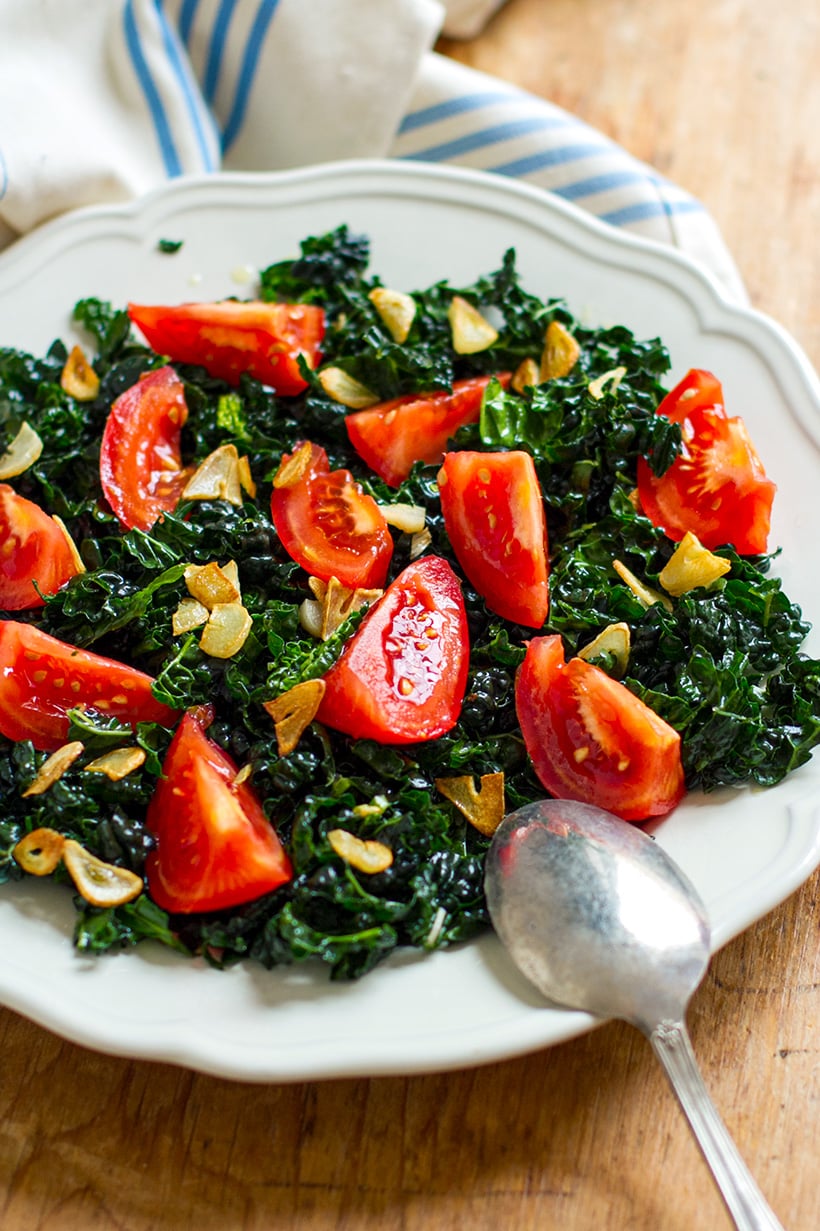 In case my cavolo nero salad sounds a little fancy and exotic, let me reassure you that it's not.  Think of it as a simple and tasty kale salad. It's packed with antioxidants, vitamins and minerals including lutein, vitamins A, C, K, fibre, calcium, manganese and iron, so it's a great little side dish for a weeknight dinner.
What Is Cavolo Nero?
Cavolo nero (cabbage) is also known as black kale, Tuscan kale or Tuscan cabbage, and you've guessed correctly, it's related to kale. In fact, it's kale's Italian cousin. And while it's a very common vegetable in Italian cooking, cavolo nero isn't used as much elsewhere. That's not to say that it's not easily available. I often see cavolo nero in supermarkets, especially in season.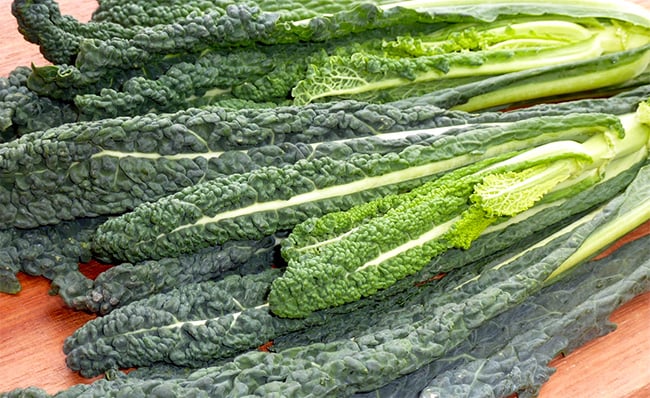 In essence, cavolo nero is very similar to kale. Its leaves are longer and darker, and I personally think it's a very pretty leafy green. You can use it in soups and stews like the Italians do, sauté it in some butter and lemon juice as you would with spinach, or use it raw in a salad or a smoothie. Try my cavolo nero and corn fritters here.
How To Prepare Raw Cavolo Nero
Similarly to kale, raw cavolo nero has very fibrous, firm leaves compared to say spinach. As such, if you plan to eat it raw, you need to give it a good massage to soften the fibres and make it easier to chew and digest.  I usually drizzle it with a little lemon juice and sprinkle some salt, then massage the leaves with my hands until they are bruised and wet.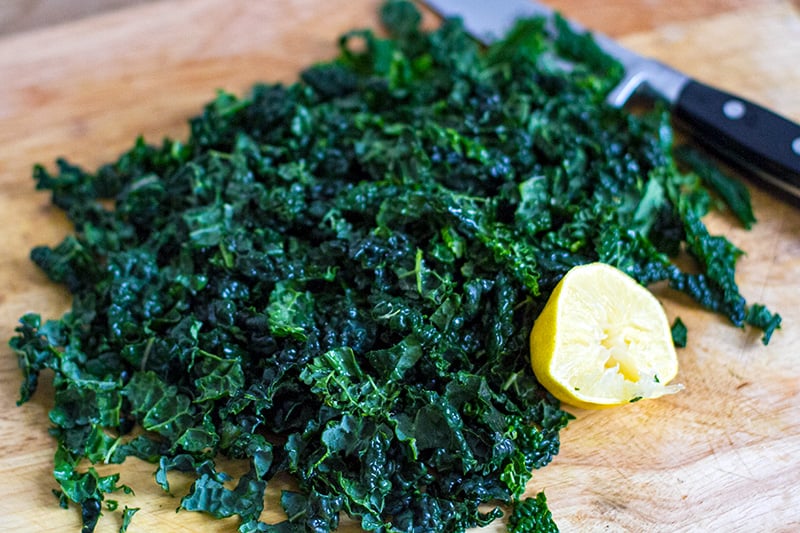 What Can I Use Instead Of Cavolo Nero?
If you can't get your hands on cavolo nero for this recipe, use regular kale or Swiss chard instead.  
This salad is great with pretty much any protein but I especially love it with some roasted chicken, pan-fried duck or fish. 
---
More Recipes With Leafy Greens
---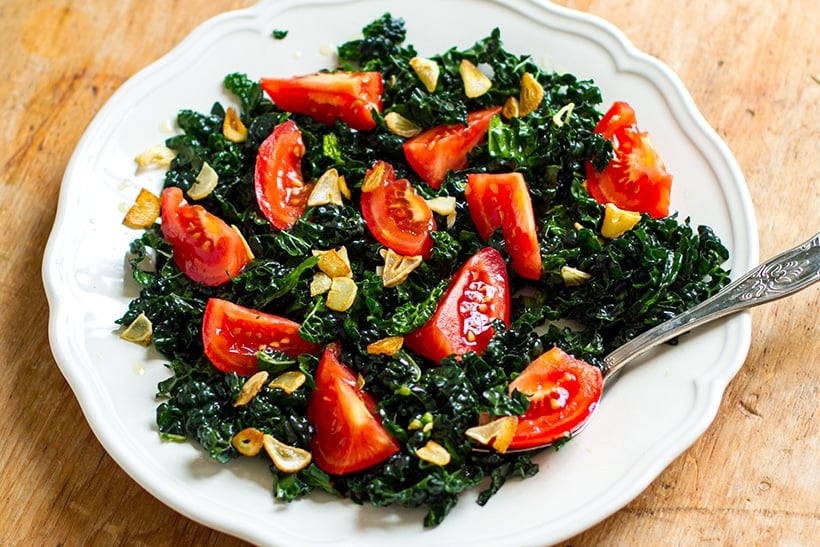 Print
---
Description
This cavolo nero salad with tomatoes and fried garlic is simple and quick to prepare. Kale or Swiss chard can be used instead in this recipe. Serve with your favourite piece of meat or as a vegetable side dish on the table.
---
---
Shake off excess water from the cavolo nero leaves and slice thinly on a chopping board. Drizzle all over with lemon juice and sprinkle with salt. Using your hands, massage the lemon and salt into the chopped leaves. This will help to soften the kale. Transfer to a platter or leave on a chopping board, whichever way you like to present it.
Scatter tomatoes over the top.
Heat a small frying pan over medium-high heat. Add the olive oil and thinly sliced garlic, sprinkle with a pinch of salt. Cook over low-medium heat, as to not burn the oil too much, and stir frequently, for about 1-2 minutes. As soon as the garlic starts to change colour to golden yellow, remove it from the heat. Scatter the fried garlic over the salad and then drizzle the hot, garlicky oil over the top.
---
Notes
For the AIP version, Remove tomatoes; you could use some avocado, radish or cucumber instead.
Nutrition
Serving Size:

Half of the salad

Calories:

281

Sugar:

4.1 g

Sodium:

597.3 mg

Fat:

28.5 g

Saturated Fat:

4.1 g

Carbohydrates:

8.7 g

Fiber:

2.4 g

Protein:

2.3 g

Cholesterol:

0 mg
Keywords: Cavolo Nero, Tuscan Cabbage, Black Kale, Leafy Greens, Salad