This dish of crispy roasted mustard, honey and balsamic Brussels sprouts is SO GOOD that you will want to make them over and over again. The sprouts are roasted together with button mushrooms and dressed in the most delicious concoction. This is probably my favourite Brussels sprouts recipe – the BEST!
Definitely give it a try and let me know what you think. It's great as a side dish on any occasion but especially around Christmas, Thanksgiving or other holidays. It would go fabulously with roast meat.  Gluten-free, vegetarian, vegan, paleo-friendly.
---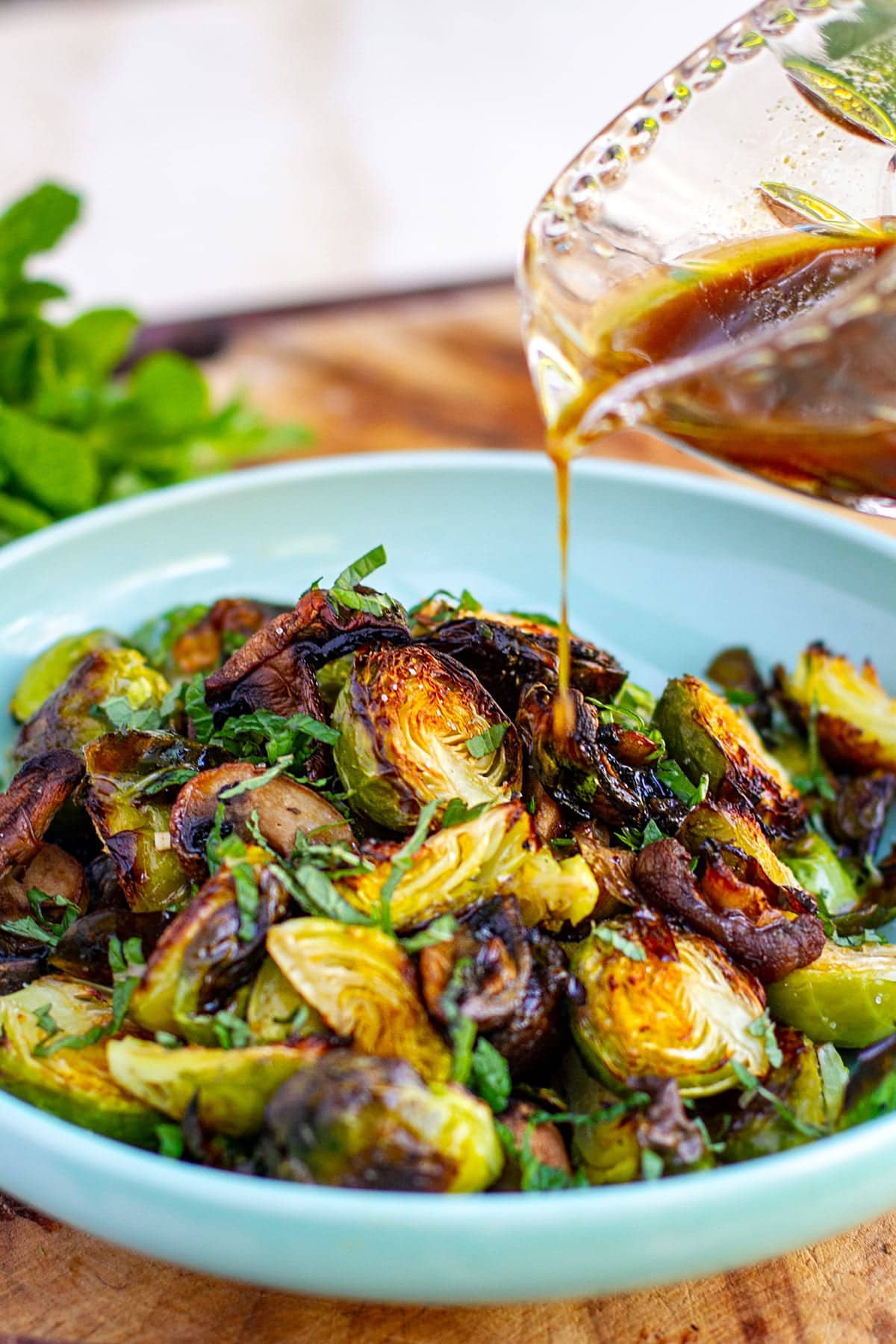 Honey Balsamic Brussels Sprouts
This Brussels sprouts recipe is inspired by my favourite dish from Porteño restaurant in Sydney.
Their version is of deep-fried Brussels sprouts and lentils dressed in a delicious sauce of hot mustard, vinocotto and olive oil. I wanted to create a simpler, homemade version without lentils, not deep-fried and using ingredients you would most likely have in your pantry. 
My roasted Brussels sprouts come with the addition of mushrooms and the dressing uses Balsamic vinegar and honey mix instead of vinocotto or vincotto, which is a thickened, sweet cooked wine, most similar to caramelised, sweet balsamic, I guess.
If you do have access to vinocotto, by all means, use that instead of the vinegar and honey.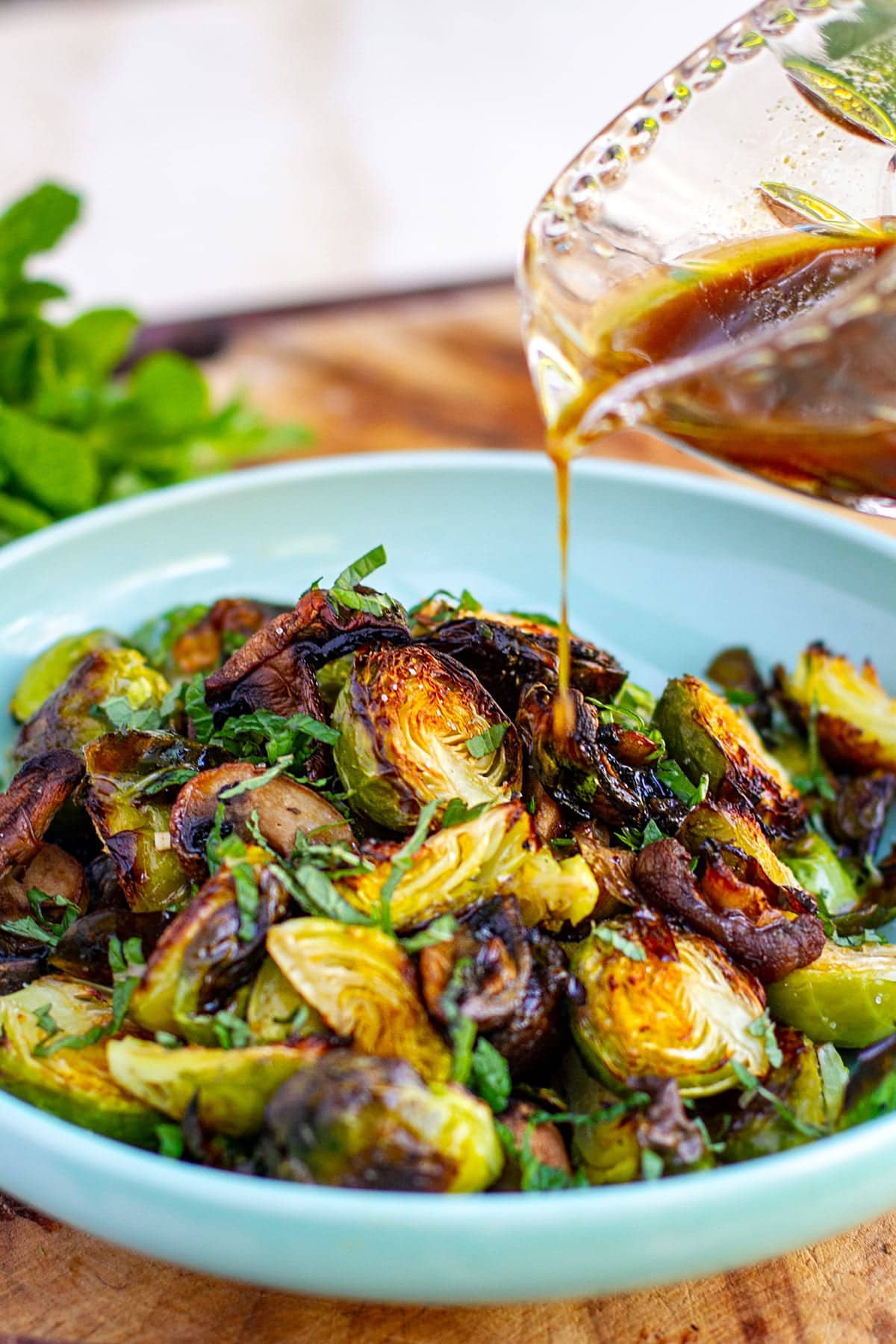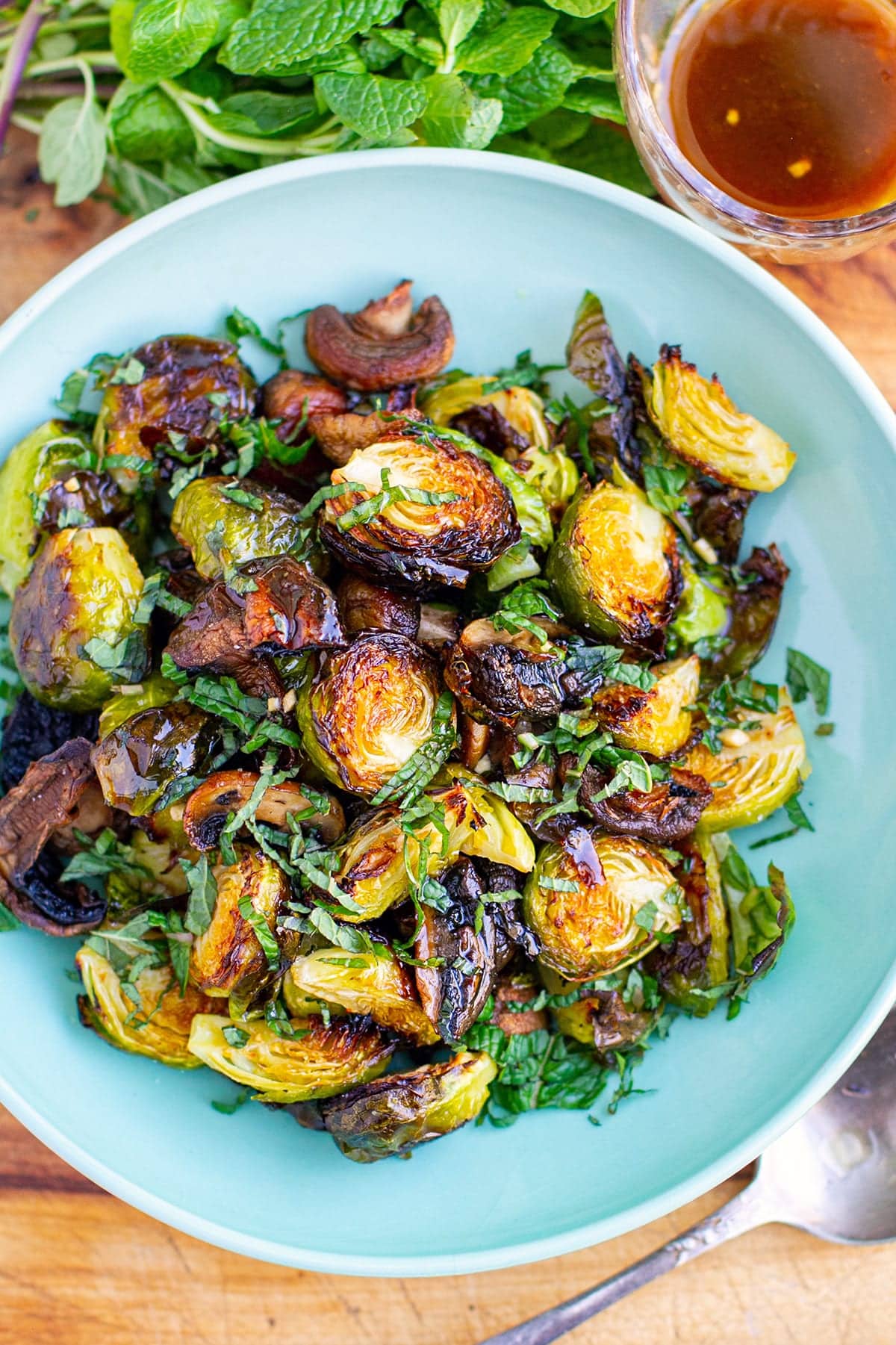 How To Make Roasted Brussel Sprouts
For this recipe, the Brussels sprouts and mushrooms are halved, drizzled with olive oil and roasted until crispy and golden brown (slightly charred, almost).
It is important to roast Brussels sprouts on a flat try and at high heat so they get nice and crispy. My tip is to check on the veggies after about 10-15 minutes and remove any browned single leaves of Brussels sprouts as they will cook very quickly and can burn. Then pop the tray back in to finish roasting. 
I made one tray of veggies but if cooking for a crowd, roast two trays at the same time (simply double the ingredients).
Mix the dressing of hot mustard, garlic, balsamic, honey and olive oil and set aside. While you can use regular mustard for this dish, I highly recommend hot mustard. I think it really adds something special and it's not too hot or spicy, even though it looks like you're using a lot of it.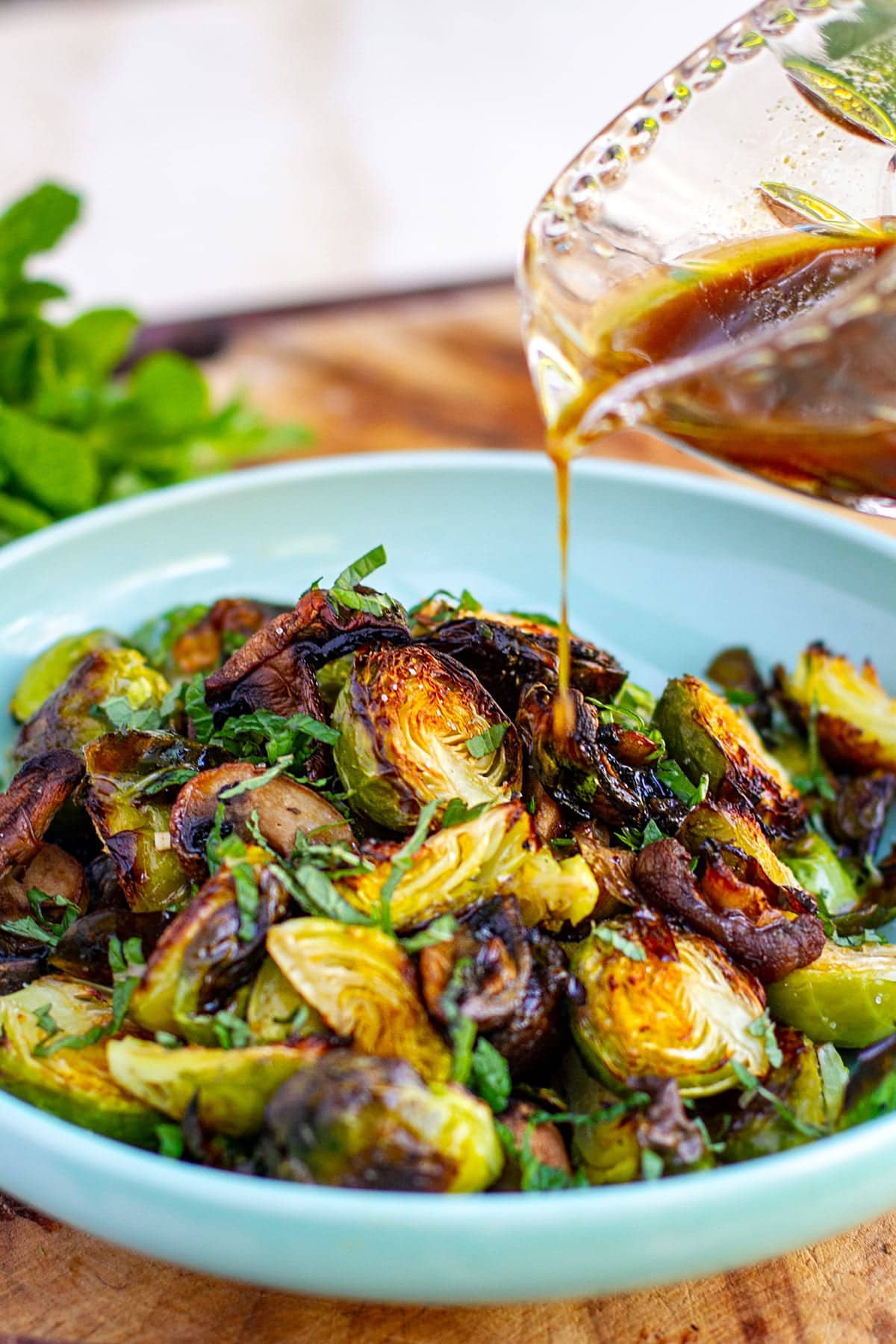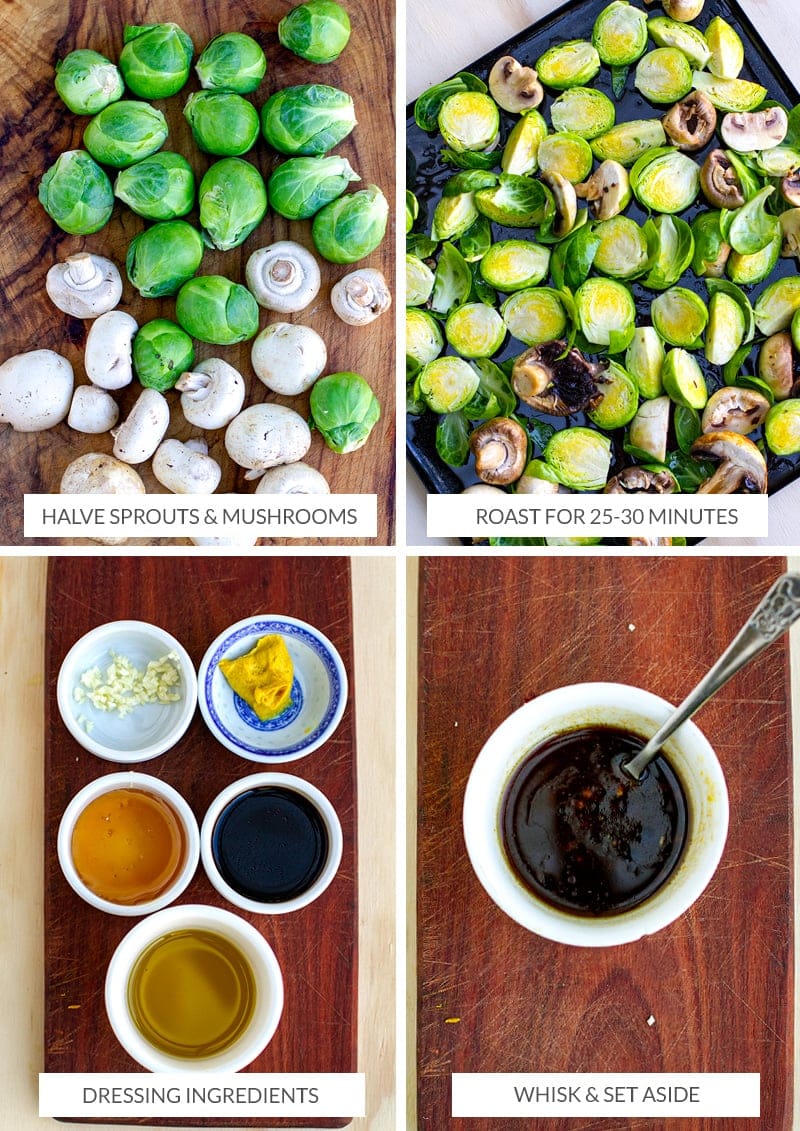 Once the Brussels sprouts and mushrooms are cooked, they will shrivel down in size. Season them generously with salt and pour over the dressing while the veggies are still hot. Top with some fresh mint. Parsley or basil will also work here. Serve while warm.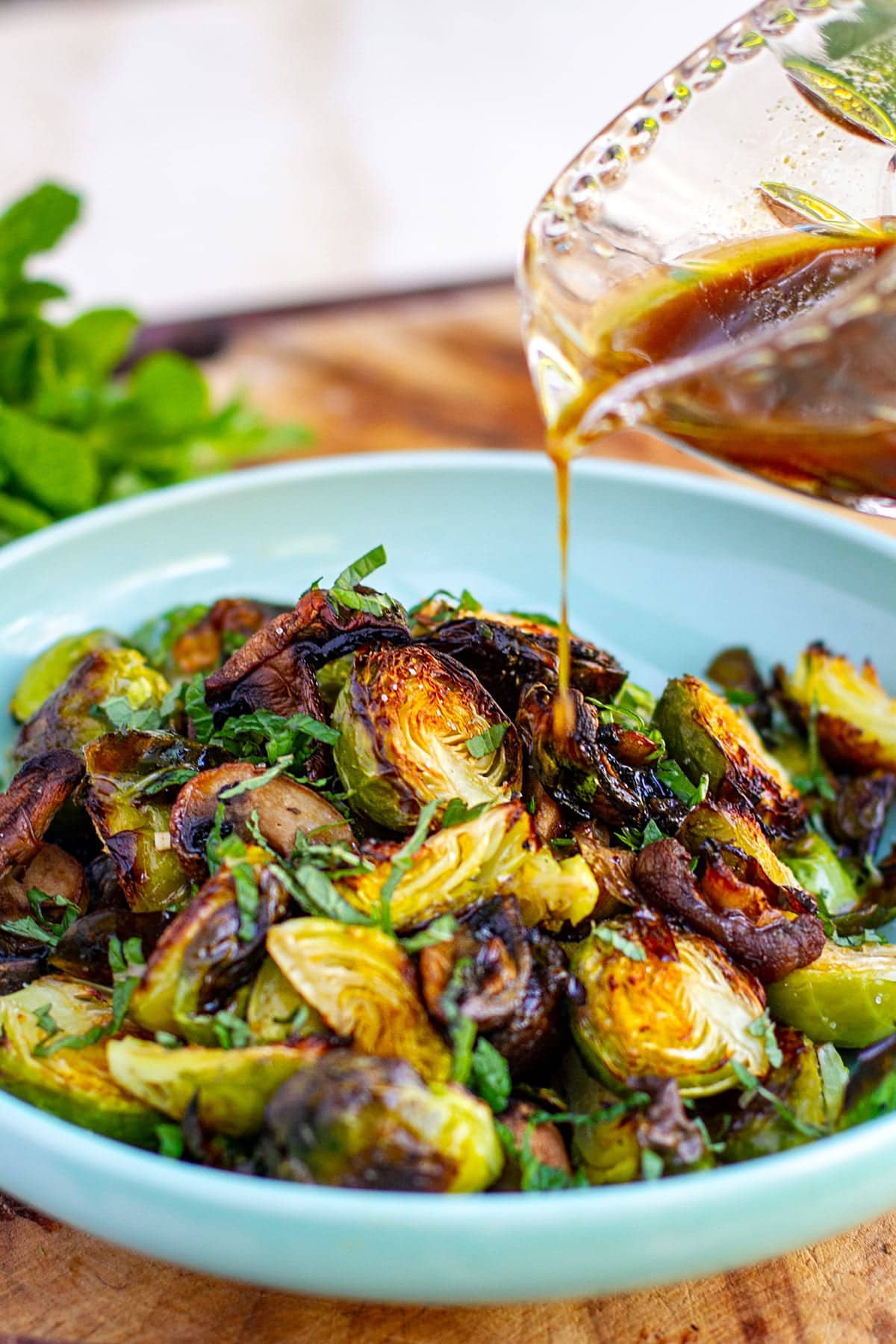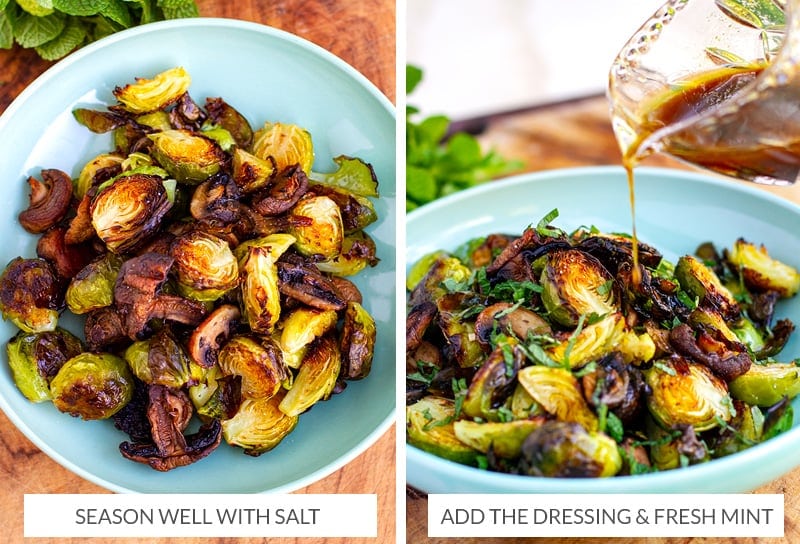 Here are the full recipe, instructions and nutritional breakdown for this Brussel sprouts recipe.
Print
---
Description
Learn how to make the most delicious Roasted Brussel sprouts with honey balsamic and mustard dressing. This gluten-free, vegetarian and paleo-friendly and healthy Brussels sprouts recipe makes for an excellent side dish for any meal but especially for Thanksgiving dinner, Christmas or Sunday roast with the family.
---
---
Preheat the oven to 200 C / 400 F. Grease a flat baking tray (sheet pan) with a little oil.
Combine halved Brussels sprouts and mushrooms in a mixing bowl and drizzle with a tablespoon or two of olive oil. Toss through to coat.
Spread evenly on a baking tray cut side up (make sure it's a flat tray!) and pop in the oven. Cook for a total of about 25-30 minutes (maybe 35 depending on your oven), until golden brown and crispy. Make sure to take the tray out after 10-15 minute and remove any single Brussels sprouts leaves as they will have browned by now. Keep them in a bowl. Pop the tray back in to keep roasting.
While the veggies are roasting, mix the dressing and set aside.
Remove the tray from the oven once cooked. Season the vegetables generously with salt (about 1/2 a teaspoon or a bit more) and transfer to a serving bowl. Pour the dressing over the top (you can do half of it to being with). Top with fresh mint and serve while warm (although they will taste just as amazing once cooled down).
---
Notes
If making a larger batch of this recipe, double the amount of Brussels sprouts and mushrooms and roast on two flat trays, rotating their position in the oven. Don't try and make MORE vegetables on the same tray as you want to distribute plenty of heat around each piece to get achieve that lovely crispiness. For the dressing, you only to increase the amounts by a third or even quarter rather than double and you should have plenty for twice the vegetables.
Mushrooms can be omitted from this recipe and you go straight Brussels sprouts or add some broccoli or bacon pieces to the mix. To get this recipe closer to the original Porteno dish, feel free to add a cup of warm brown or green lentils instead of mushrooms.
Nutrition
Serving Size:

Quarter of the amount

Calories:

294

Sugar:

8.4 g

Sodium:

321.6 mg

Fat:

25.2 g

Saturated Fat:

3.6 g

Carbohydrates:

16.5 g

Fiber:

4.5 g

Protein:

5.9 g

Cholesterol:

0 mg
---