This website may contain affiliate links and advertising so that we can provide recipes to you. Read my privacy policy.
Juicy and flavorful, these 4-ingredient grilled chicken tenders are going to be your favorite thing to cook up this summer! They have a delicious honey lime glaze you'll be licking off your fingers!
If you love chicken tenders like I do, you'll have to try some of my other recipes! These oven-fried, garlic parmesan, and air fryer chicken tenders are quick, easy, and sure to be loved by both kids and adults alike.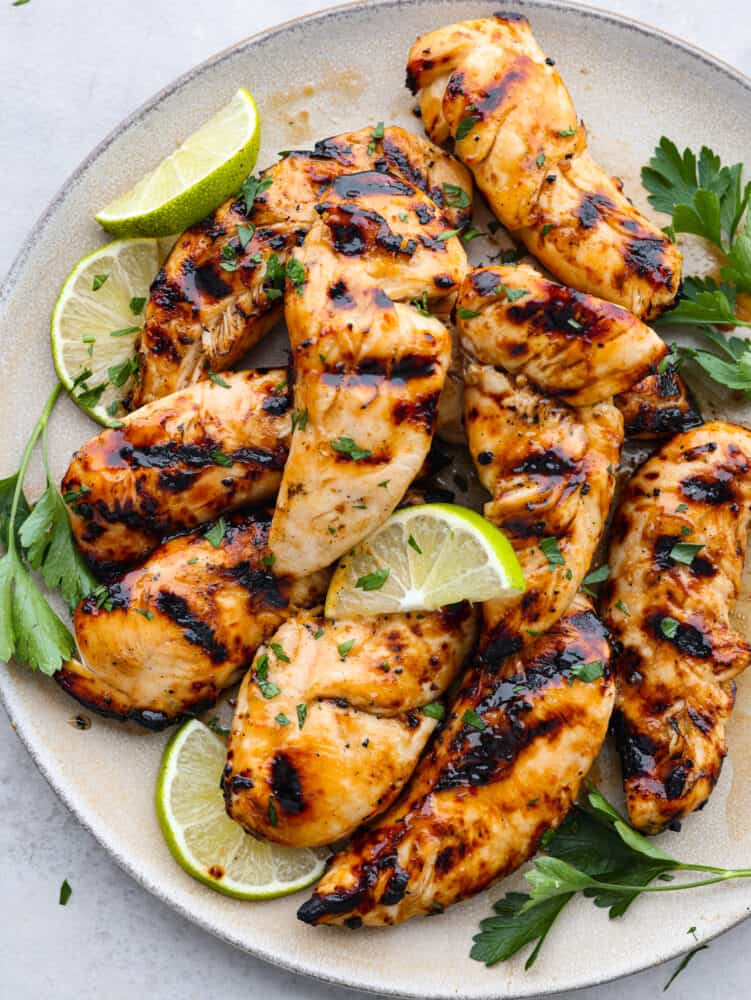 Delicious Grilled Chicken Tenders With Honey Lime Sauce
With grilling season in full force, here's a new recipe for you to try that the whole family will love! These grilled chicken tenders are a barbecue hit. They're juicy, tender, packed with sweet and zesty flavor in each bite, and most importantly – insanely easy to make. Did I mention you only need 4 ingredients to throw them together?
The flavor of these grilled chicken tenders is incredible. It's the perfect combination of sweet, zesty, and savory! Then, once you get that smoky char on the outside, these babies are absolutely to die for. They're a hit with even the picky eaters in my family. I've caught my youngest licking the sauce off of her plate on a few occasions. With how tasty these chicken tenders are, I don't blame you if you want to do the same! Let's get grilling!
Ingredients You'll Need
You won't believe the amazing flavor you get from just 4 simple ingredients! Short and sweet is best! You can find measurements for each ingredient in the recipe card at the end of the post.
Italian Dressing: Italian dressing adds the best flavor to these chicken tenders!
Honey: Gives your marinade a thick texture and tasty sweetness.
Lime Juice: Adds a pop of zesty flavor.
Chicken Tenders: These can also be sold as 'chicken tenderloins.' You'll want them to be uncooked and ready to marinate. If you can't find packaged chicken tenders, you can also use boneless chicken breasts and cut them lengthwise, so they're a similar shape.
How to Make Grilled Chicken Tenders
Even if you're new to grilling, these chicken tenders with honey lime sauce are something you can make with flying colors! You'll need a little bit of time to let them marinate, but they cook up in just a few minutes! It's the perfect quick and easy summer meal.
Prepare Chicken Marinade: In a medium-sized bowl, whisk the Italian dressing, honey, and lime juice.
Marinate: Add the chicken tenders and marinate for 30 minutes.
Preheat: Preheat the grill to medium-high heat. Add the chicken tenders.
Grill: Cook for 3-4 minutes and then flip and cook until 165 degrees and no longer pink.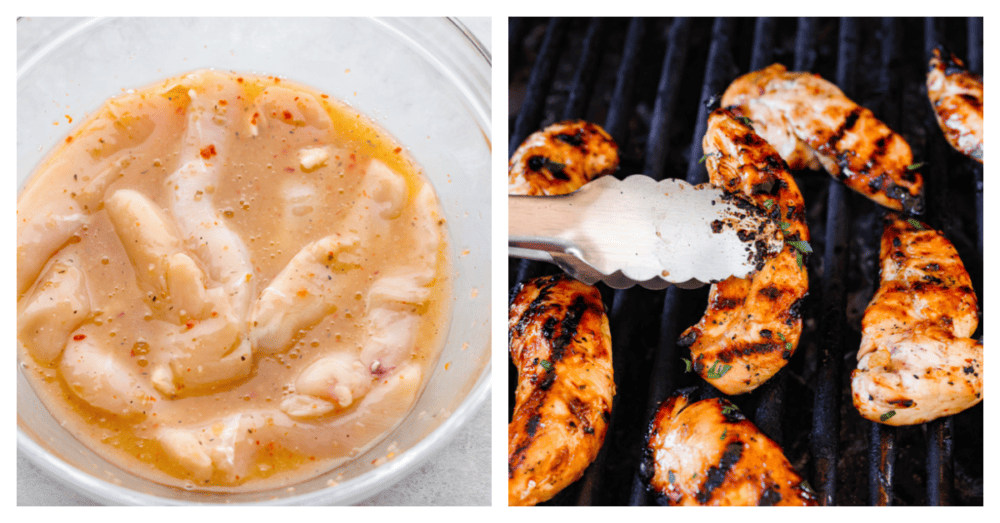 Serving Suggestions and Tips for Grilling Chicken
Here are a few simple ways to make yourself the master of the grill! Once your friends and family get a bite of your grilled chicken tenders, they'll be hooked. It's hard not to be when they're so juicy and flavorful.
Use a Thermometer: This step is super important so that your chicken doesn't dry out on the grill. Use a meat thermometer to check the internal temperature of your chicken tenders. You can take them off the grill when the internal temperatures reach 165 degrees Fahrenheit. If you cook them any more than that, they may dry out.
Let Rest: The key to juicy grilled chicken is letting it rest for a minute or two after you pull it off the grill. This allows all of the tasty juices to reabsorb, giving you chicken tenders that will melt in your mouth! If you cut into them too soon after grilling, those juices may be released instead of absorbing back into the meat.
Serve With: These grilled chicken tenders are tasty on their own but great for serving over rice and adding to green salads, too! I always chop up my leftovers and add them to salads like this cilantro lime chicken salad and chili lime chicken salad. The flavor of the chicken complements them perfectly! The size of these tenders is also perfect for adding to grilled kebabs alongside tasty veggies.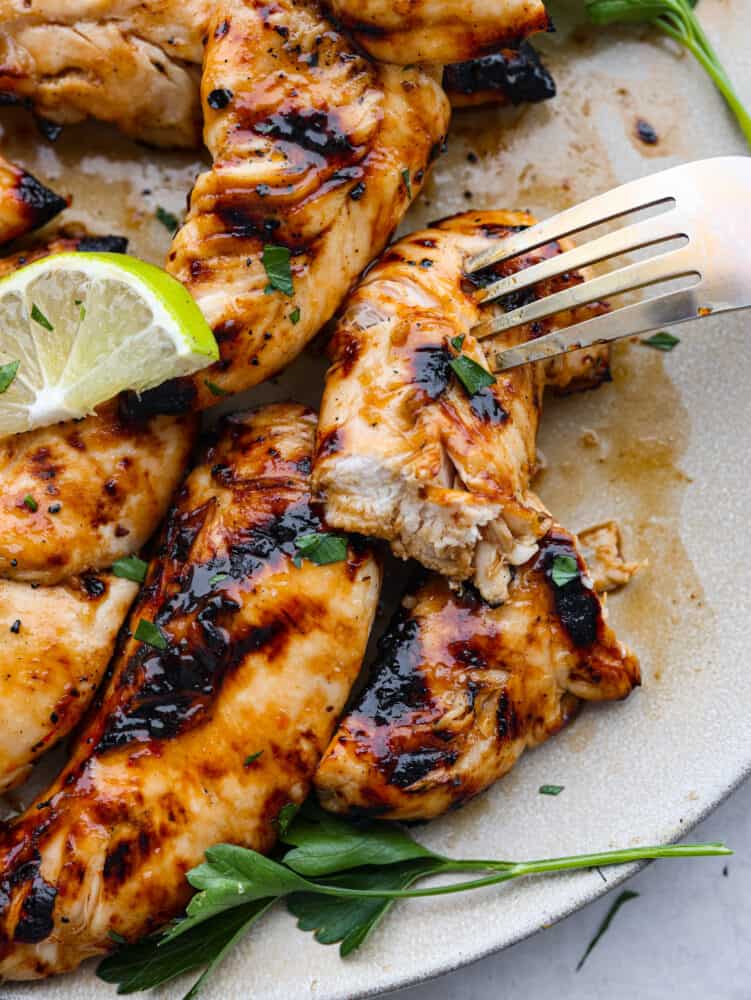 Storing Leftovers
These grilled chicken tenders are the best for leftovers. You can use them for a quick lunch for the kids or slice them up for salads and burrito bowls!
In the Refrigerator: Store leftover grilled chicken tenders in an airtight container for up to 4 days.