Simple and delicious roasted sweet potato salad with pickled red onions and coriander (cilantro). This layered salad is super healthy and is paleo, Whole30, vegan and gluten-free friendly. Serve it as a side dish to your favourite protein.
---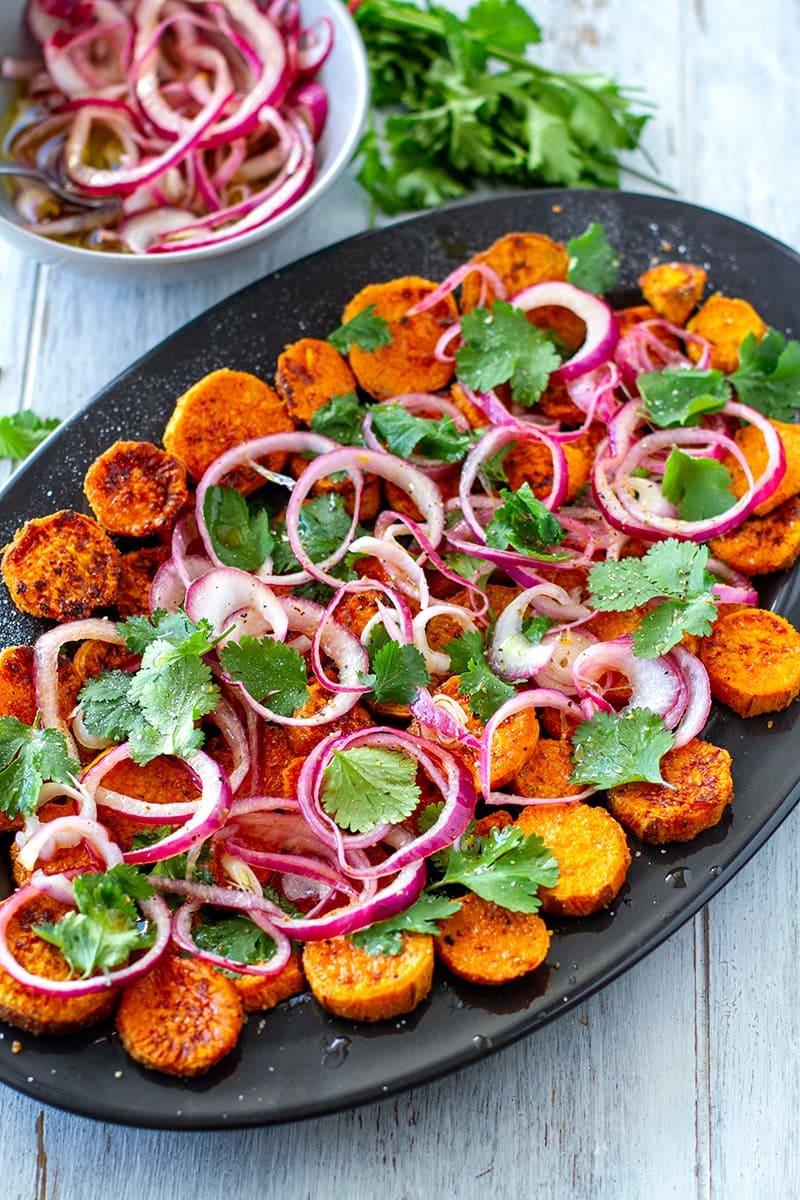 This sweet potato recipe is kind of like a salad in a layered form and is perfect as a side dish with your favourite protein main or even on its own. You can also bring it to a barbecue or a picnic and it's fantastic any time of the year.
Sweet potatoes are seasoned with a few simple spices and can be roasted or pan-fried, which gives you just enough time to quick-pickle thinly sliced red onions. Their tang and sharpness pairs beautifully with the sweetness and softness of the potatoes. I love a little fresh coriander on top but you can also use basil or another aromatic herb.  It's a little Ottolenghi-inspired and is a big favourite in our house.
Making Roasted Sweet Potatoes
There are a few different ways to prepare sweet potatoes for this dish. You can cut them into thick circles, cubes or into larger wedges. Then drizzle with a little olive oil and season with salt, pepper and a few other spices. I like paprika, cumin and onion powder. Then either roast them or pan-fry (works best for circles or cubes but not the wedges as they would take too long). 
The key to good roasted potatoes is to use a flat tray rather than a deep dish and to make sure you space the pieces out a little bit so that the hot air can circulate all around them. I do mine at 200-220 C / about 400 F for about 25 minutes depending on the shape/size.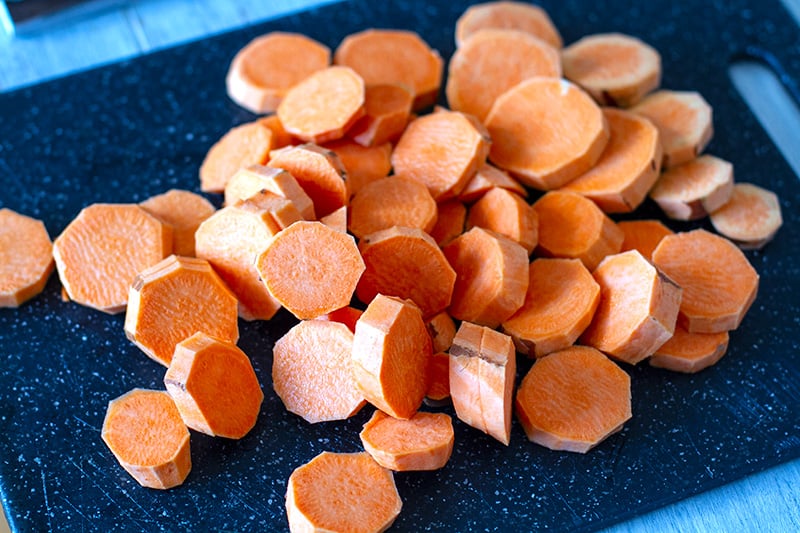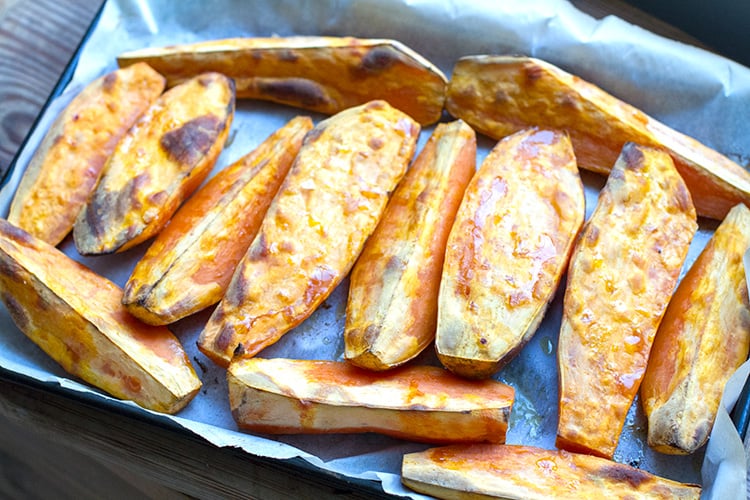 Pickled Red Onions
I recommend using small to medium red onions so that the circles aren't too big when they are sliced. You could also chop them finely, in which case it will be more like a red onion salsa or red onion vinaigrette.
To be honest, you can use any vinegar you like and the type will give you a different flavour profile: more grapey from red or white vinegar or more apple-y from apple cider vinegar, or something a bit more Italian from Balsamic.
The longer you marinate the onions, the softer they will get and the more intense the tanginess. For this dish, I pickle them for 20 minutes or so while the potatoes are cooking, but you can make them ahead of time and store in the fridge. If you want to make a bigger batch of pickled onions, I have a separate recipe here. They go with so many things!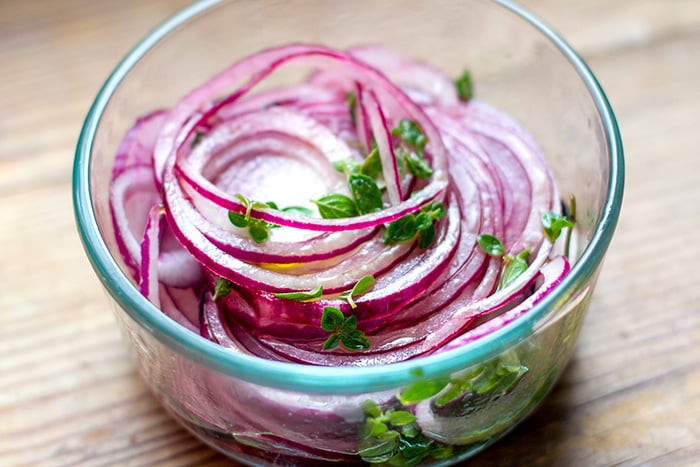 Assembling The Salad
Okay, so the red onions with the marinade act as a dressing over the sweet potatoes. You can serve them layered on a large platter like I did here or you can toss it all together in a bowl. Do this last minute so that the potatoes don't get too soggy.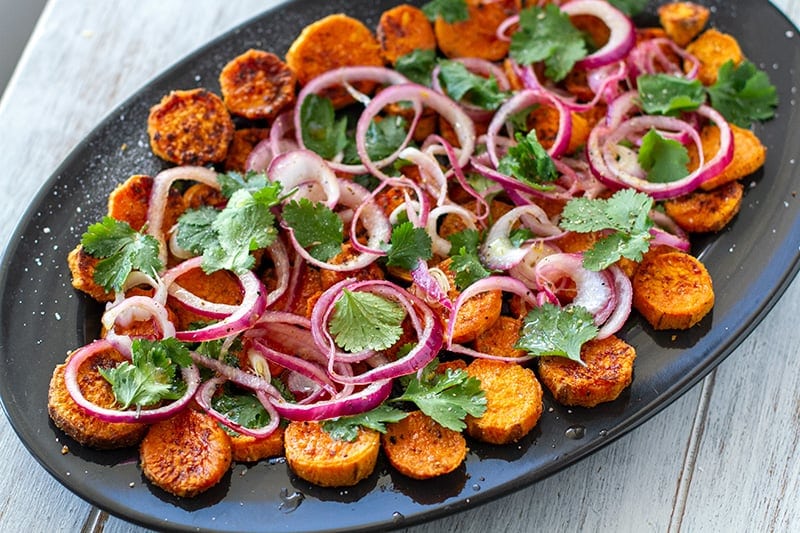 And now, here is the full recipe for this delicious roasted sweet potato salad with pickled red onions and coriander.
Print
---
Description
This roasted sweet potato salad with pickled red onions and coriander can be served as a side dish with your favorite protein main. It's great for a barbecue meal or to bring to a picnic and is gluten-free, paleo and vegan-friendly.
---
---
Preheat the oven to 200 C / 400 F.
Toss sweet potato slices in olive oil, salt, pepper and spices.
Place a piece of baking/parchment paper on a flat baking tray or grease the tray directly. Make sure to leave a little bit of space between the potato pieces so that the hot air can circulate around them. Pop in the oven for 20-25 minutes.
Pan-frying: You can also heat a large frying pan over medium heat and cook the potato slices in a little olive oil or coconut oil for 5-6 minutes on each side, until soft when poked with a fork. You can cover the pan with a lid for half that time to speed up the cooking process.
In the meantime, slice the onion into thin circles and rinse under cold water. Combine in a bowl with vinegar, water, olive oil, mustard, honey (if using) and salt. Set aside but give them a stir/turn them over in the marinade every 5 minutes or so.
Once potatoes are done, remove them from the oven and transfer to a platter or to a bowl. Top with the onions and drizzle some of the pickling marinade on top as you would with a dressing. Finish with a little fresh coriander and another sprinkle of sea salt.
---
Notes
For AIP: omit paprika and cumin spices
Nutrition
Serving Size:

A quarter of the salad

Calories:

201

Sugar:

5.5 g

Sodium:

943.4 mg

Fat:

14.2 g

Saturated Fat:

2 g

Carbohydrates:

18.2 g

Fiber:

2.7 g

Protein:

1.5 g

Cholesterol:

0 mg
Keywords: Sweet Potatoes, Onions, Salad, Gluten-free, Vegan, Vegetarian, Paleo, Whole30
More Sweet Potato Recipes