This website may contain affiliate links and advertising so that we can provide recipes to you. Read my privacy policy.
This Cafe Rio shredded chicken recipe is supremely tender and flavorful! Whether you eat it as-is, on salads, or in a wrap, it enhances everything you put it on.
The flavors of Cafe Rio are so irresistible. Recreate them at home with my copycat lime rice and sweet pulled pork, topped with amazing cilantro ranch sauce!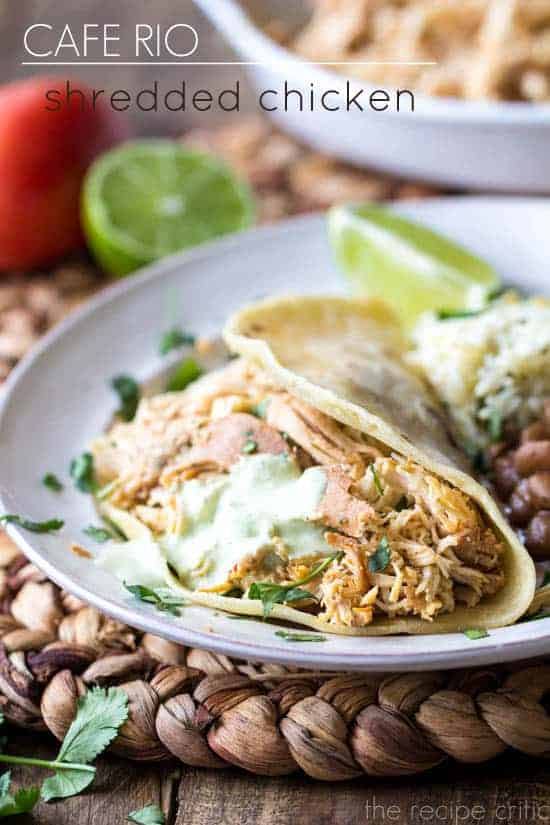 Cafe Rio-Inspired Crockpot Chicken Recipe
I seem to have a little obsession with Cafe Rio. There is just something about that place that I could totally eat there weekly. Honestly, you can't go wrong with any of the meats that they have! Their sweet pulled pork and chicken are 2 of my favorites. I have been dying to try out the recipe for the shredded chicken, and now my copycat recipes of all of the Cafe Rio recipes are complete! This recipe is so incredibly easy to make. You just mix together the seasonings, throw your chicken into your crockpot, and it's hands-off!
Preparing this tasty chicken only takes 5 minutes. With the amazing smell this recipe fills your kitchen with when cooking, waiting is the hardest part! The chicken is so tender, it just peels apart. That combined with its flavor makes this a winner winner chicken dinner. Garlic, ranch, cumin, and chili powder create a perfectly savory flavor with a hint of spice. My family can't get enough of it! I serve these with simple veggies and homemade tortillas. Top them off with my cilantro ranch dressing for a creamy, flavorful wrap you'll want to make again and again.
Ingredients for Cafe Rio Shredded Chicken
6 simple ingredients are all you need to create big flavor! I love that I can just pull a few ingredients out of my pantry to recreate one of my favorite dishes. You won't want takeout again!
Chicken Breasts: I use boneless, skinless chicken breasts in this recipe.
Zesty Italian Dressing: This adds the perfect savory tang to your chicken.
Minced Garlic: Garlic is a must! I like using fresh minced garlic for the best flavor.
Chili Powder: Chili powder adds a mild spice and gives the chicken its perfect Tex-Mex flavor.
Cumin: Adds a warm, nutty flavor.
Dry Ranch Dressing: Everything is better with ranch! This blend of herbs and spices is essential for the perfect savory flavor.
Water: Water is added to create a marinade.
How to Make this Cafe Rio Shredded Chicken Copycat Recipe
This recipe is perfect for when I have a busy day planned but I want to come home to a tasty meal. It is so simple! Your slow cooker does all the heavy lifting. Be prepared to have this amazing chicken as a regular in your dinner rotation!
Prep Slow Cooker: To begin, spray the inside of your slow cooker with cooking spray.
Mix Seasonings Together: Add all of the ingredients except for the chicken into your slow cooker. Then, mix until combined.
Add Chicken and Cook: Next, add the chicken and cook on low for 4-6 hours or on high 3-4 hours. Your chicken is done when it is no longer pink.
Shred and Enjoy: Remove chicken from the slow cooker and shred. Replace the chicken back in the slow cooker and mix with the juices! Enjoy!
Tips for the Best Shredded Chicken
Making this chicken is as easy as it gets, but here are some things to note for the best results! You will love the supremely tender masterpiece this recipe creates.
Cook Low and Slow: If you want the most tender chicken possible, make sure to cook your chicken on low for 4-6 hours. You can still have tasty results cooking it on high, but low heat will make your chicken as flavorful and soft as possible.
Use Thawed Chicken Breasts: It is best to avoid cooking frozen chicken breasts in the crockpot. Especially if cooking on low heat, they may sit in the "danger zone" temperature and grow bacteria.
Chicken Size: One thing to keep in mind is that if you use smaller chicken breasts, they will cook faster. I like to use medium-sized chicken breasts so they don't overcook and become dry.
Check Temperature: The best way to check if your chicken is done is by using a thermometer. When internal temperatures reach 165 degrees Fahrenheit, you're good to go!
Optional Toppings: For a little extra flair and flavor, top your chicken with things like minced cilantro, chopped roma tomatoes, olives, fresh lettuce, or some homemade cilantro ranch dressing!
What to Serve With Your Cafe Rio Shredded Chicken
This shredded chicken tastes amazing on its own, in a warm tortilla, or on top of a salad. To complete your meal, serve your shredded chicken up with some of my other favorite Mexican-inspired dishes!
Storing Leftover Chicken
It is so easy to store leftover Cafe Rio shredded chicken! It's perfect to warm up for quick, tasty dinners.
In the Refrigerator: First, let your chicken cool down completely. Store in resealable bags for up to 4 days.
In the Freezer: Once your chicken is cooled down completely, store in a resealable bag for up to 4 months. Thaw overnight in the fridge before reheating.
Reheating: My favorite way to reheat shredded chicken is in the microwave. I put it in a microwave safe bowl, sprinkle a little water on top, top with a paper towel, and cook for 45 seconds to 1 minute until it is completely warmed through. It's so easy to then throw it into a wrap or onto a salad! You can also reheat over the stove by adding a few tablespoons of water into your saucepan with your chicken. Then, cook on medium heat until warmed through.
A Reader's Review
"I made this for my kids and parents and everyone RAVED! It was delicious and so easy. I followed the recipes exactly for both the chicken and the cilantro dressing. Next time I'll cut the dressing recipe in half (it makes a lot, so I've got the extra in the freezer) and perhaps reduce the amount of buttermilk so it's a little thicker. Definitely a keeper."
Leslie