These Peking-style paleo duck pancakes are served with crispy fried meat, homemade hoisin sauce and fresh vegetables. This is a healthier version of the much-loved Chinese classic that you can whip up for friends and family. Gluten-free, grain-free, and dairy-free recipe.
---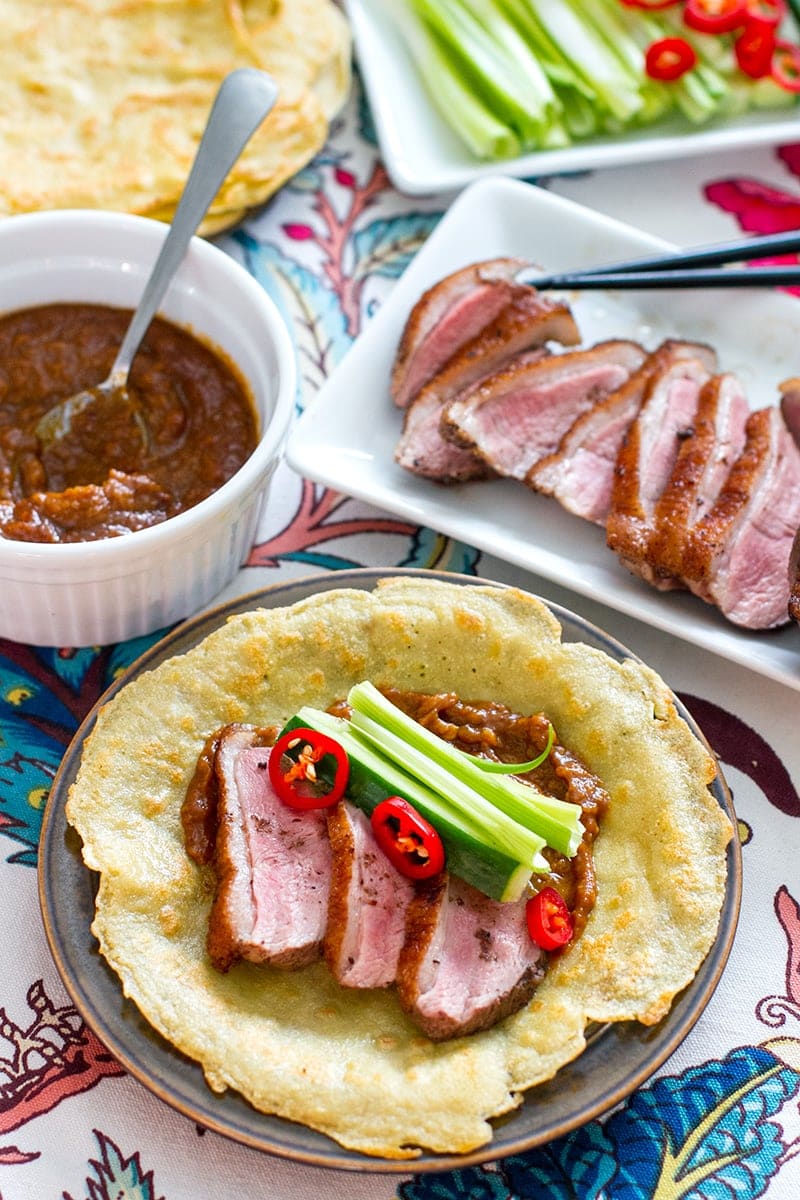 Peking Duck Pancakes Paleo-Style
Peking duck pancakes are one of my favourite dishes. I used to eat them in Sydney's Chinatown with friends at least once a fortnight but I had to cut down when I was following a Paleo diet and avoiding gluten and processed foods.
I remember at the time, I really missed the combination of pungent, sweet and salty hoisin sauce with the moist crispy duck and fresh onion and chilli. I decided to make up my own healthy version of this dish with homemade and natural hoisin sauce, crispy duck and grain-free pancakes.
And while I no longer follow the paleo diet (only for a reset once in a while), I still love this paleo duck pancakes recipe! If you're doing a paleo or Whole30 reset, give these a go.
Making Grain-Free Pancakes
I played around with the pancakes first and after researching the traditional, wheat flour based duck pancakes I decided to make a much simpler version using tapioca, egg and some coconut flour and just pan fry them as thin crepes.
Mind you, the original pancakes don't have any eggs and the texture is a little different but I actually think my version of pancakes was quite successful and makes for a great substitute. This little feast is really flavoursome and will hit the spot for those missing the authentic Peking duck pancakes.
Recipe Tips
The pancakes themselves are made with tapioca flour, which is just pure starch from the cassava root, also sometimes known as arrowroot starch. It's high in carbs so consume in moderation, depending on your paleo approach.
For those really counting their carbohydrate intake, the 1/2 cup of tapioca used here is about 70 g of carbs and 2.5 g of natural sugars. So divide that between about 10 pancakes and you get an idea of how many you can eat based on your intake level.
Tapioca and coconut flour can be purchased from most health food stores and online and in many good supermarkets.

For the Hoisin sauce, I use Chinese five-spice powder which is a mix of star anise, cloves, cinnamon, Sichuan pepper and fennel or aniseed seeds. You should be able to find it in the spice section of your supermarket.
Duck can be replaced with sliced beef steak, lamb or chicken. And if you can't be bothered making the pancakes, just wrap it all in a lettuce leaf. I like to serve these with a side of stir-fried Asian greens or a salad.
Recipe for My Paleo Hoisin Sauce can be found here.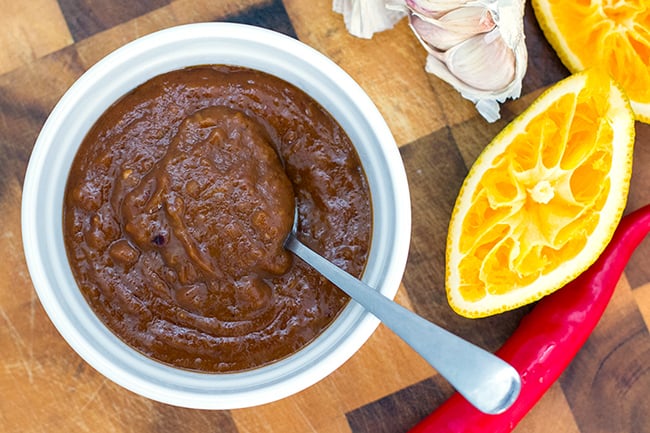 Cooking The Duck
To cook the duck, I am using two methods: poaching in broth to infuse the meat with delicious flavours and pan-frying to get that crispy skin finish. Pre-cooking the duck in broth also reduces the frying time.
You could also season the duck and roast it in the oven. If you're a little intimidated to cook with duck, make sure to check my post on how to cook this meat.
Alternatively, pan-fried chicken with or without skin would also work well in these pancakes.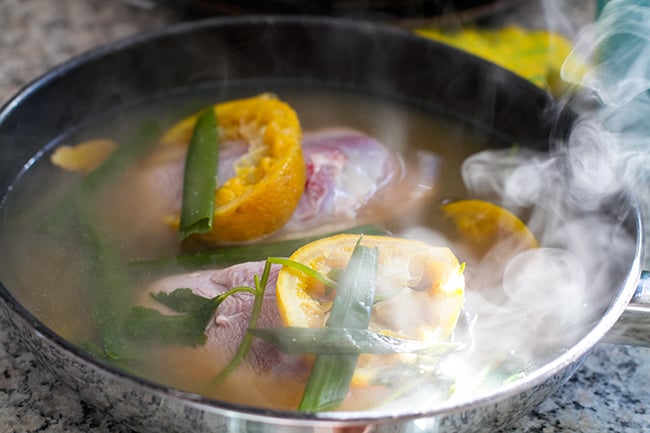 More Duck Recipes
---
Full Recipe 
Find the full list of ingredients, instructions, and a nutritional breakdown below. If you have questions or cook this recipe, please let me know in the comments, and make sure to rate this recipe so it's easy for others to find.
Print
---
Description
These Peking-style paleo duck pancakes are served with crispy fried meat, homemade hoisin sauce and fresh vegetables. This is a healthier version of the much-loved Chinese classic that you can whip up for friends and family.
---
For the duck
For the pancakes
Additional ingredients
---
Prepare the duck first. Place all ingredients, except for the duck, in a deep frying pan or flat round saucepan and bring to boil. Turn the heat down and simmer for 4-5 minutes, allowing all the flavours to infuse. Remove from the heat and place the duck breasts, skin side down, in the broth. Move some of the onions and orange to the top so the meat is covered as much as possible. Cover with a lid and let the duck poach gently in hot broth for about 15 minutes (not on the heat).
Prepare the hoisin sauce. While the duck is poaching, prepare the hoisin sauce if you haven't done this ahead of time already. The link for the recipe is above.
Now prepare the pancakes. Whisk the eggs with water, onion powder and sesame oil until slightly frothy, about 30 seconds. Add tapioca flour and whisk until dissolved and incorporated. Then add coconut flour and whisk until well combined.
Heat a teaspoon of macadamia oil or coconut oil in a small frying pan over medium heat. Using a large spoon or a small jug, pour about 1/4-1/5 of a cup of egg mixture into the pan and at the same time swirl the pan around so that the mixture spreads into a thin, crepe like pancake. It should start cooking through instantly. Leave the pan on the heat, cooking for about a minute or until light, golden brown marks appear on the bottom side. Then flip the pancake over and cook on the second side for about 30 seconds. Remove to a plate and keep warm. Repeat with the rest of the mixture. You should get around 9-10 pancakes out of it.
Back to the duck. Remove duck breasts from the broth and place on a plate. Season with sea salt, pepper and a bit of Five-spice powder on both sides. Place the ducks, skin side down, in a cold skillet and turn the heat on to medium. Cook on medium heat for 12-15 minutes, allowing as much fat in the skin as possible to render. The skin will turn beautiful golden brown and crispy and most of the fat will melt into the frying pan. Baste the duck meat with the melted fat and juices a couple of times during the cooking process.
After 12-15 minutes, turn the duck over and cook the flesh side for about 3 minutes over medium heat. Remove to a chopping board and rest for 3-4 minutes. While the duck is cooking, slice all additional ingredients and set the table. Finally, slice the duck and serve .
Roll each pancakes filled with half a teaspoon of hoisin sauce, 3 pieces of duck, 1-2 onion strips, 1-2 cucumber strips and some chilli.
---
More Paleo Asian Recipes